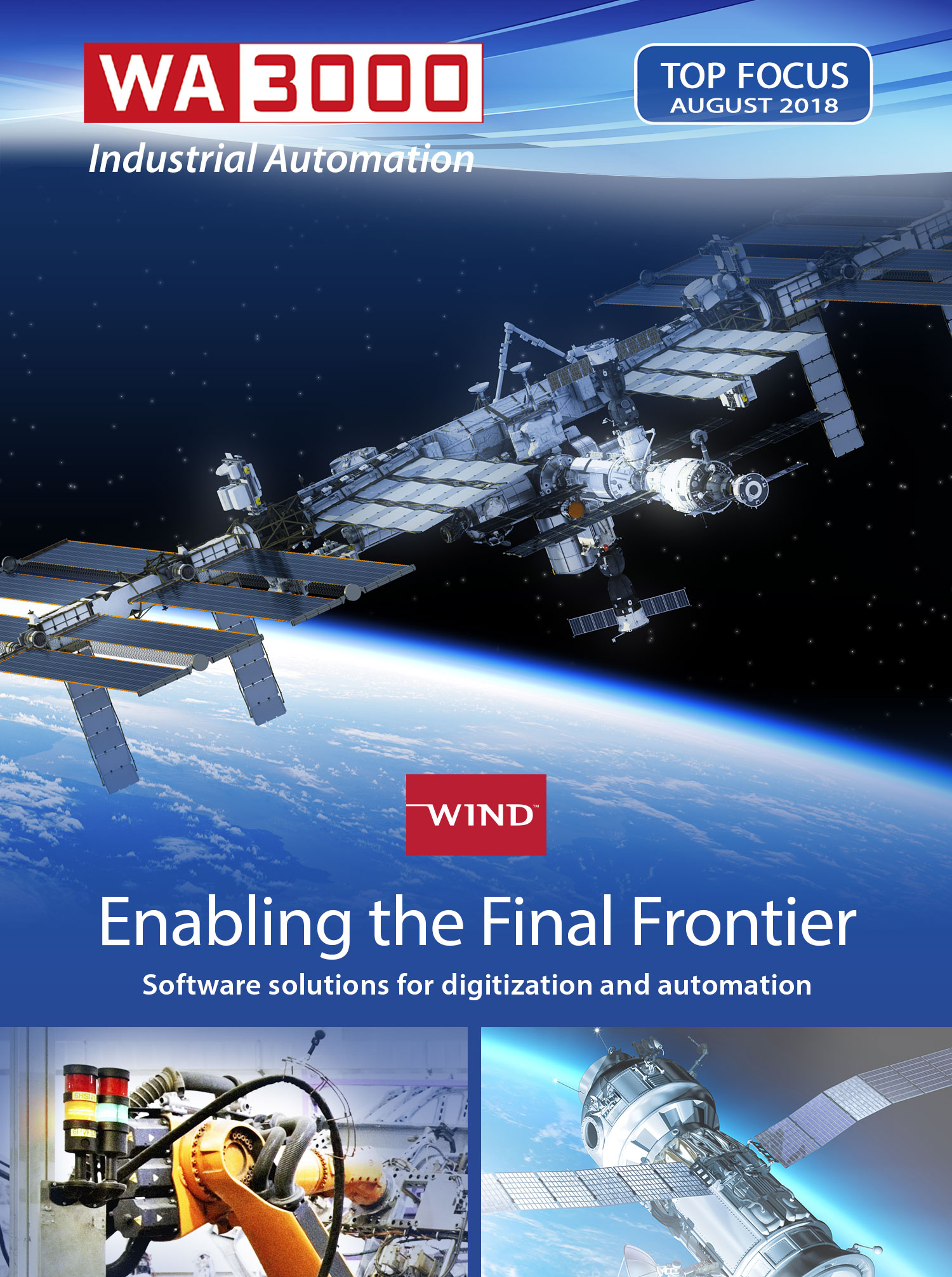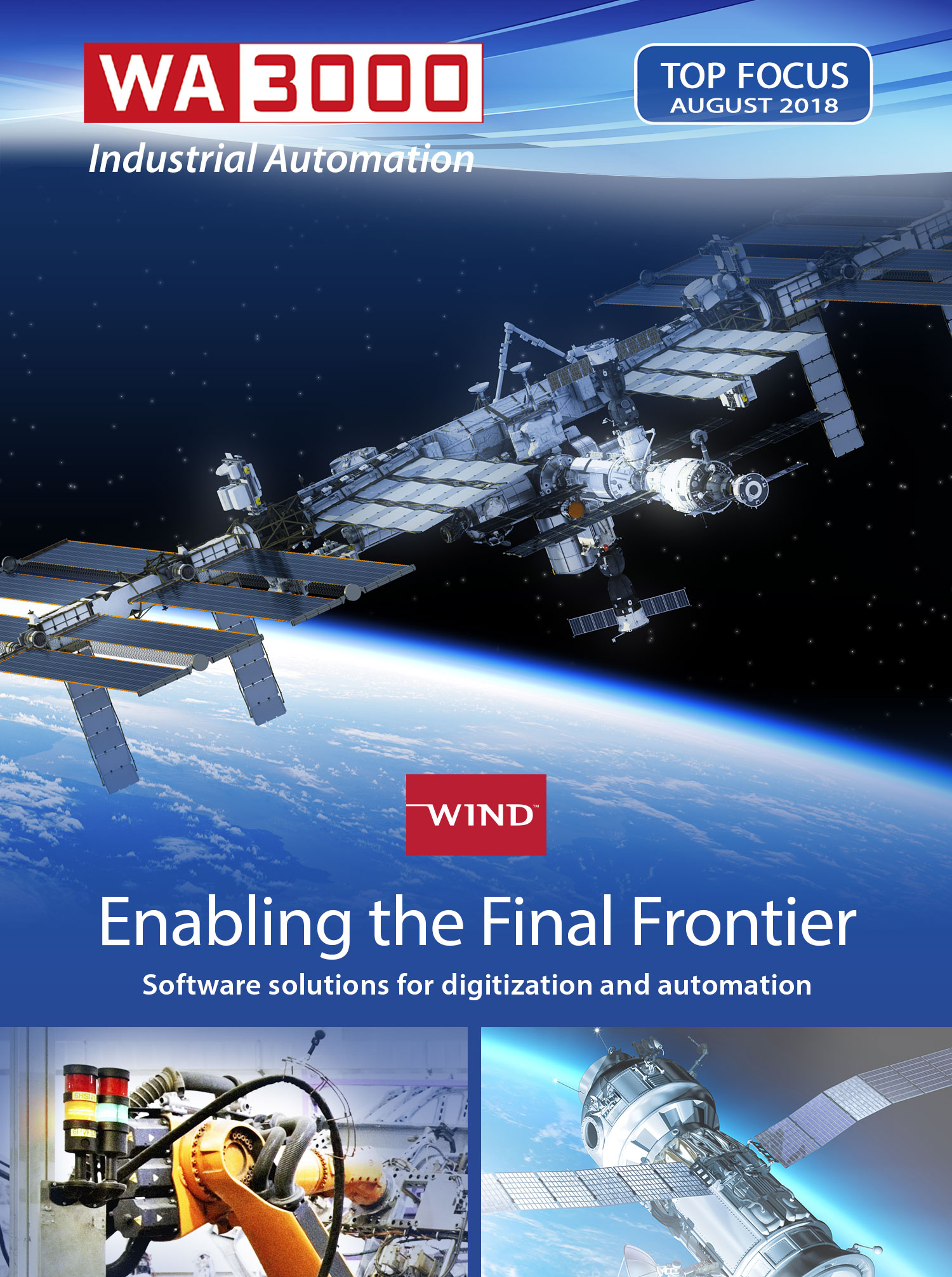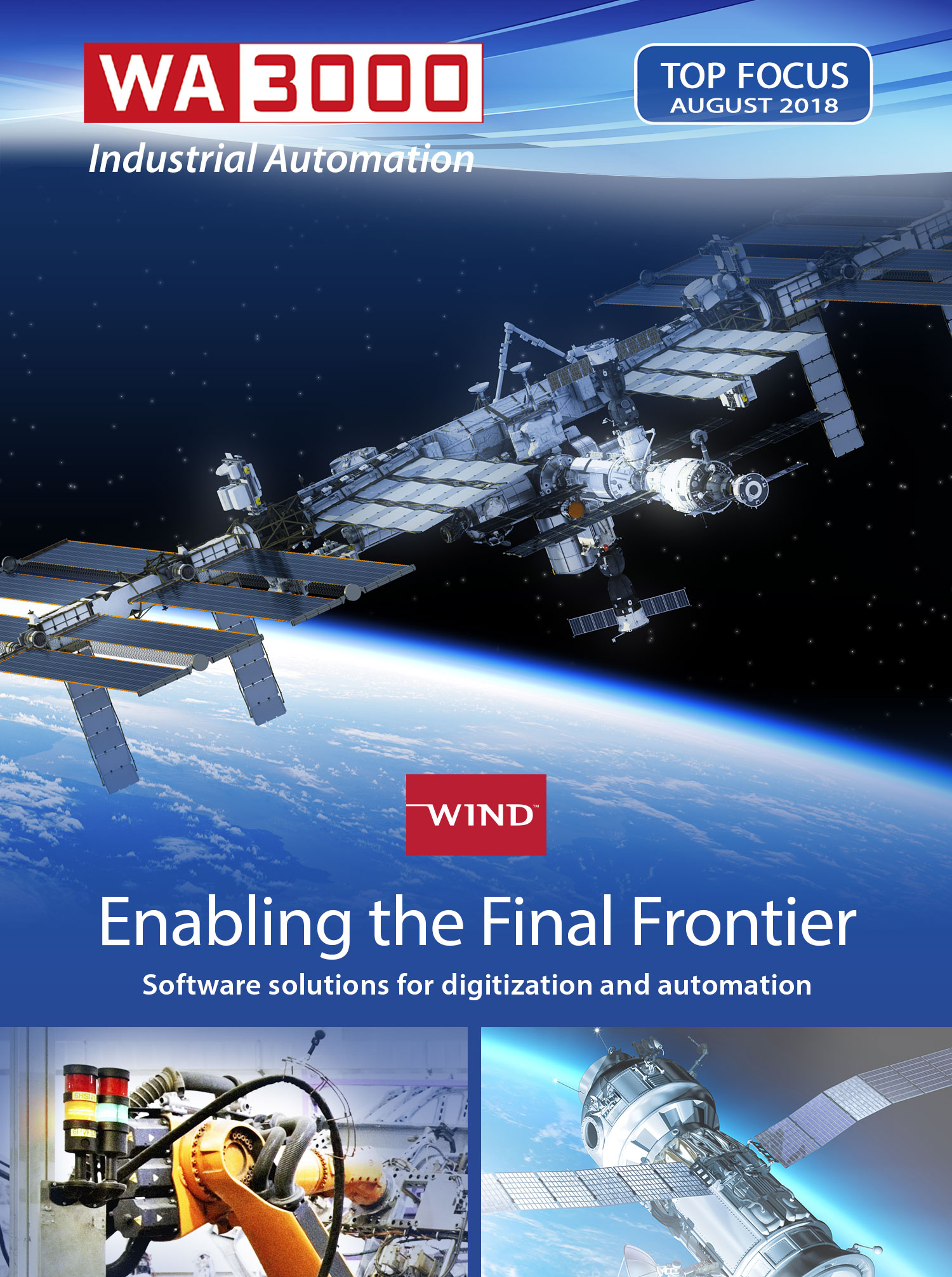 Enabling the Final Frontier
It used to be the case that space was beyond reach to all but the richest governments and a handful of private enterprises. Today, opportunities in space look very different. Commercial space activities have taken off, driven in large part by greater functionality in smaller packages. With faster time-to-market, better size, weight, and power features at lower price points, and lower launch costs, new business models and significant venture funding are finding their way to commercial space applications. The solution components presented are also suitable for applications in digitization and automation.
Wind River products support an end-to-end solution for satellite systems
The challenge
With segment growth and new use cases, new problems and technical concerns begin to emerge. One new key concern is security. No longer can "security through obscurity" be assumed a successful strategy. While advancements in on-orbit and launch technologies have lowered the potential for catastrophic on-orbit failure, security risks across the complete end-to-end space/ground system allow for new failure scenarios. Integrators need to look at security as it relates to the entire end-to-end system throughout the system lifecycle and not simply as a patchwork of various technologies stitched together from various suppliers evaluated at the time of launch or in a pre-launch design review. Another concern is lifetime cost. Some new-generation technologies have lower up-front costs than their predecessors, which is evident during system design and development. However, support and maintenance costs over the entire product lifecycle often become an afterthought to be solved by an undefined future operations team. At the same time, many of the traditional challenges associated with earlier space programs still hold true. Due to the costs associated with launch, satellite engineers are held to hard requirements that must be met the first time and every time.
With long development cycles supported by distributed teams, often bugs are found late in the testing of vaguely defined requirements.
Use of proven embedded software and simulation solutions is critical to finding issues early in the development cycle and throughout the operational life, even after supplier hardware obsolescence.
The solution
For more than 20 years, Wind River® has provided solutions that have taken dozens of unmanned systems to space, playing a critical role in some of the most significant space missions in history.

A combination of our heritage embedded capabilities and the latest software-defined architecture (SDA) technology is enabling space system providers today with end-to-end software solutions that usher in a new era of flexibility.
Wind River delivers a comprehensive set of solutions from ground station to payload that enable space systems to securely accelerate their development and apply cutting-edge digital transformation paradigms.
Learn how Wind River products support innovative space system solutions.

 
VxWorks
VVxWorks is the world's most widely deployed real-time operating system, powering some 2 billion devices including the Mars rover, James Webb Telescope, and NASA Juno. It delivers unrivaled deterministic performance and sets the standard for a scalable, future-proof, safe, and secure operating environment for connected devices in IIoT.
Key features
A proven real-time operating system: VxWorks is proven in mission-critical applications, where security is paramount.
Security: Best-in-class, pre-integrated security functionality throughout the VxWorks product line includes foundational security capabilities for devices by enhancing device, communication, and management security.

Multi-core and integrated virtualization capabilitie: Virtualization Profile for VxWorks integrates a real-time embedded, Type 1 hypervisor with support for virtual machines into the VxWorks core for consolidation of standalone hardware onto a single multi-core platform. With virtual machines, you can consolidate your core safety-certified and non-safe code on a single VxWorks real-time hosting platform.
Wind River Linux advantages
Wind River Linux
The embedded operating system of choice for device software developers who want a combination of open source flexibility and commercial-grade reliability and support, Wind River Linux provides improved out-of-box experience with optimized cross-architecture runtime. Wind River Linux security builds on the robust development and commercialization processes that make Wind River the world's leading embedded Linux OS.
Key features
Yocto Project: Wind River Linux is a Yocto Project Compatible open source baseline and one of the project's largest contributors of technology. Developers can leverage the flexibility of an optimized open source platform without compromising security.


ISO 9001 certification:
Wind River Linux development and maintenance processes have been certified to the ISO 9001:2015 quality management system standard.
Security features:
Wind River Linux provides an extensive list of security features that help secure access, functions, and data.
Security support services:
Wind River Linux provides ongoing threat mitigation in deployed systems against common vulnerabilities and exposures (CVEs).
Wind River Titanium Cloud
The Titanium Cloud™ portfolio includes the industry's only fully integrated, ultrareliable, and deployment-ready virtualization platforms that enable satellite communications providers to deploy virtualized services faster, at lower cost, and with guaranteed uptime. The product is supported by the Wind River Titanium Cloud Ecosystem, a program that includes validation of interoperability with our hardware and software partners, ensuring optimization of our combined solution. When service uptime is critical for profitability, Titanium Cloud products ensure that virtualized services run when, where, and how they need to, always.
With Titanium Cloud the desired results can be achieved
Maintain ultrareliable communications services: Titanium Cloud ensures that uptime service-level agreements can be met as required by communications applications. This is achieved with carrier grade reliability and performance not available with enterprise class solutions.


Reduce costs: Titanium Cloud lowers the cost of deployment, operations, and maintenance compared to legacy systems and equipment and further reduces costs by allowing the efficient use of standard, off-the-shelf servers.
Ensure security:
An extensive, built-in, fully integrated and multi-layered security framework protects your systems against network-borne threats.
Avoid vendor lock-in for hardware and software:
Titanium Cloud is based on open source components with 100% open APIs. It is further validated with a rich ecosystem of hardware, management software, and virtual network function providers to ensure interoperability.
We apply a three-layer decoupling (application, middleware, hardware) model, enabling our customers to perform rapid replacement of components and reducing the risk of vendor lock-in.
The architecture of Titanium Control at a glance
Wind River Simics
Enable developers, test engineers, and operations engineers to simulate anything from chip to system. Simics provides the collaboration, test automation, and availability required for agile development and cost-effective support and maintenance through long product lifecycles.
Key features
Access: Speed time-to-market by providing all teams with access to a virtual hardware environment, free of the constraints of physical hardware.
Automation: Use the scripting, programmability, and fault injection of Simics to automate and parallelize testing, including options not available on hardware.
Collaboration: Easily copy and communicate the entire system, including current state and execution history, to anyone on the team, anywhere in the world.
Conclusion
The Wind River suite provides software products enabling solutions from payload to ground station, including industry-leading operating systems connecting to an ultra-reliable, on-premise network virtualization platform that can be simulated using powerful hardware simulation tools. With more than 20 years of experience in space, Wind River is well versed in the exacting, real-time requirements of satellite and ground system solutions. Today, we are enabling the next generation of software virtualization and simulation technologies to drive the transformation of space systems. ▪ ds


Find out more now!
Robust connectors for harsh applications
Industrial Vehicles and Construction Machines places high demands on the connectors used. The overmolded variants of the DT and VSS Superseal connector series and the ISOBUS series developed by CONEC offer optimum protection even in sensitive fields of application such as underground, at sub-zero temperatures or in dusty, hot environments.
The DTT and VSS Superseal connector series are designed as cable-to-cable connections and lock securely to the mating connector via a latch. Due to the CONEC overmould, the protection degree IP67/IP69K is complied with for the entire connector in mated condition. Optionally the overmoulded DT connector series comes with an LED to indicate the signal status and protection circuit. A unique feature is the 360° visibility of the LED. The protection circuit keeps switching and interference voltage away from the LED and connected systems. To extend the CONEC product range in the field of connection solutions for agricultural and construction machinery, the connectors for ISOBUS are included in the ready-made and overmoulded design. The overmould provides a continuous IP67 protection of the housing up to the hybrid cable and is suitable especially for harsh environments like agriculture, construction and mining industries. Connection is done via bayonet locking. Currently, three different cable variants are available which are specifically designed for agricultural applications.
The cable variants differ in the cross-section of the stranded wires for ground and power with 6 mm², 10 mm² and 16 mm² ▪ ds
If it is mobilised with a seventh axis, a single robot can perform palletizing tasks at several different locations
The concept of the seventh axis provides robot applications with an increased motion range. With the Seventh Axis system from the Actuator System Line Rollon offers a practical solution for this task.
The shuttle system moves robots on a ground-level linear axis made of aluminum profiles very dynamically over long distances. It allows robots to perform tasks in multiple locations to achieve better utilization. Due to the low dead weight of the Seventh Axis system, only low ceiling loads occur, so that it can also be used without problems in production halls with basements. Seventh Axis is suitable for carrying out palletizing tasks, operating machine tools, bending and handling sheet metal as well as welding and painting work or for gluing components.
With a linear axis, the maxium reach of small to medium-sized can be extended
Easy to integrate into any application
The Shuttle system is available in seven sizes and can be easily integrated into any application. The aluminum profiles can carry and move robots weighing up to 2,000 kg and with a payload of up to approx. 300 kg. A total of six of the seven sizes are designed for applications weighing less than 1,000 kg, making them the most slender gradation on the market. The wide range of variants enables very precise dimensioning of the axis and thus significantly reduces costs for the user.
Seventh Axis achieves particularly high dynamics because the lightweight aluminium slides reduce inertia
High dynamics
Thanks to the lightweight aluminum profiles, the Seventh Axis system offers very high dynamics, which is particularly advantageous for demanding handling tasks. Seventh Axis is available with a rack cover as standard, optionally with a cover for linear guide and racks or with a fully accessible cover. Individual linear axis can be designed up to twelve meters in one piece with profiles. By connecting several profiles, the reach of the robot can also be increased as required.
Thanks to the seventh axis, this welding robot can also completely process large workpieces
Significant stroke extension for KUKA‑robots
In a current application, Rollon's Seventh Axis system has extended the maximum reach of a 245 kg KUKA welding robot of 1,636 mm by a stroke of six meters. Overall, the concept of the Seventh Axis offers greater flexibility than a robot OEM solution and is an economical alternative to steel construction for robots weighing up to 2,000 kg.
▪ ds
ADMA-Slim is available in three versions: a multi-connector and a single-connector version (both in waterproof housing) as well as an OEM version
ADMA-Slim
Miniaturised GNSS/inertial system for applications with space or weight restrictions
Precise GNSS/inertial systems using global navigation satellite systems such as GPS, GLONASS, BeiDou or Galileo form the basis for recording and evaluating the driving dynamics of motor vehicles and for the navigation of steering robots. GeneSys Elektronik has developed the full GNSS/Inertial System ADMA-Slim especially for applications with space or weight restrictions.
ADMA-Slim has been specially developed for applications with space and weight restrictions, e.g. in GVTs or VRUs
ADMA-Slim is based on the proven ADMA technology for centimeter accuracy in positional data capture. It delivers precise, smooth and consistent signals even when GNSS reception is poor. The miniaturised GNSS/inertial system is available in three different versions, for the first time as an OEM version as well.
Flexible range of application
ADMA-Slim is typically used where space or weight is limited, but where precise motion tracking is still required – for example, for motorcycles, ATVs (All Terrain Vehicles), jet skis or snowmobiles, but also for applications in overrunnable platforms for GSTs and VRUs (such as pedestrians or cyclists).
In addition, the inertial measurement system is also suitable for vehicle dynamics testing and for ADAS evaluation in general, or specifically in accordance with Euro NCAP or NHTSA test protocols. ADAS functions include, for example, the autonomous emergency braking system (AEB) or the lane support system (LSS).




ADMA-Slim is compatible with all common GVTs, such as here in ABD's GST when being used at the German Federal Highway Research Institute (BASt)
Unlimited compatibility
Due to the new and stricter Euro NCAP requirements for 2018, smaller, lighter and more compact measurement systems such as ADMA-Slim are required to be integrated directly into the remote-controlled soft targets.
These are named in the test regulations as GVT (Global Vehicle Target, Euro NCAP) or SSV (Strikeable Surrogate Vehicle, NHTSA).
ADMA-Slim is compatible with all common, overrunnable platforms, such as the GST (Guided Soft Target) from ABD, the UFO (Ultraflat Overrunnable) from DSD or the 4activeFB from 4a. In order to ensure that, for example, a GST follows a precisely defined route without deviation, extremely precise positional data from a GNSS-corrected inertial system such as the ADMA-Slim are indispensable. The advantage: This combination of a powerful measurement system and an overrunnable platform provides two proven systems that complement each other perfectly. The easy operability with all the familiar features can be used just as before.
ADMA-Slim is smaller, lighter and more compact than its predecessor, ADMA-G-EntryLevel – with full performance range
Powerful technology
The fully fledged GNSS/inertial system is based on MEMS gyroscopes and accelerometers as well as a powerful GNSS receiver. With the standard GNSS measurement method without inertial sensors, a clear view of the sky is essential for a good measurement result. In practice, however, the achievable measurement accuracy is affected by buildings, trees, fences or vehicles. The inertial measurement unit suppresses signal interference in the case of poor GNSS reception or temporary GNSS signal loss.
As a result, ADMA-Slim delivers extremely precise, smooth and continuous signals even when GNSS reception is poor.
The concurrent use of different GNSS systems such as GPS, GLONASS, BeiDou or Galileo significantly improves satellite reception, even on obstructed test routes.
Ease of use
As with all ADMA systems, the settings can be configured quickly in the Webinterface, as it is clearly arranged and easy to use. A further advantage: Once installed, the configuration remains stored. ADMA-Slim is compatible with all previous ADMA products and can therefore also be combined with the ADMA DELTA calculation. The GeneSys Ethernet Logger software, supplied free of charge, can be used to collect data and monitor the system status in real time.
Conclusion
ADMA-Slim meets the requirements of Euro NCAP and NHTSA international test standards and can therefore be used worldwide for vehicle dynamics measurements and ADAS tests, such as AEB, LSS and Car-to-Car, and particularly in situations where size and weight matter.
▪ ds
Find out more now!

Remote maintenance ensures operational safety of large aquariums
Feel starfish sucking on your hand - large aquariums as in the Ostsee-Info-Center (OIC (Baltic Sea Information Centre)), in various zoos or at the "Sealife" locations delight visitors of all ages. The aquariums provide exciting insights into the ecosystems of diverse underwater worlds.
Many visitors are probably not even aware of the technical work behind the aquarium systems. Fourteen cubic metres of water are circulated per hour. This corresponds to fourteen tons of water or about 120 filled bathtubs. The challenge here is to monitor and control the water values effectively such as salinity, temperature and oxygen percentage in the water circulation system. Only industrial components are used for control and drive technology.
Comparing the aquarium systems with a machine or production system in industry, a decisive difference can be seen: "If a production line fails, this is certainly annoying and associated with costs. But if the control of an aquarium fails, living organisms are immediately threatened," explains Franz-Josef Vennewald, owner and managing director of VewaTech, and continues: "We cannot risk to fail. That is why each of our systems installed throughout Europe is equipped with remote maintenance."
VewaTech from Hamm in Westphalia/Germany offers turnkey aquarium systems since more than 25 years, from planning and production of the system components to commissioning and maintenance over the entire life cycle - including complex system technology at the highest technical level. The control technology of the aquarium technology is designed in such a way that all functions can be controlled remotely.
Extensive piping and control technology is the backbone of a large aquarium
The mbNET industrial routers allow remote maintenance and remote control of the entire aquarium technology
In case of emergency, for example, pumps can be turned on and off manually via remote maintenance, if the local control system fails. For remote maintenance, VewaTech relies on the mbNET industrial router of MB connect line. "We don't offer systems without remote maintenance. Most of the time we get network access. Thanks to the various connection possibilities of the mbNET routers we can also work with an analogue connection or mobile connections", explains Franz-Josef Vennewald further.
Data acquisition and alarming
The aquarium systems are extensively automated. It is not intended that the personnel intervene in the control system on site. An alarm response system ensures operational safety by means of optical and acoustic signals and data transmission to the building control system. "This means that we always have all relevant data and measured values in view and can intervene long before an incident occurs," explains Franz-Josef Vennewald. The basis for this is the remote service portal mbCONNECT24, where data, water values and operator actions are continuously logged. If a limit value is exceeded, an alarm will be immediately sent by SMS or e-mail. Thanks to data history, it is always possible to trace how a critical condition occurred. Thanks to mbCONNECT24, visitors can also access selected current data themselves via the Internet. At the Ostsee-Info-Center, for example, visitors can check the current temperature and salinity of the Baltic Sea in Eckernförde without setting foot outside their front door.
Author: Siegfried Müller, Owner and
Managing Director MB connect line GmbH
The proven bent relief design increases its flexibility in comparison with standard bent reliefs. Yamaichi Electronics produces the Y-Circ P in its factory in Frankfurt (Oder). Cable assemblies for in-house and third-party products are also manufactured there. Customer-specific designs and adaptations to the requirements of cable assemblies can also be easily realised thanks to long-standing know-how in the overmoulding of connectors. This product portfolio makes Yamaichi Electronics the only manufacturer capable of offering complete cable assemblies with overmoulded in-house M12 and push-pull connectors. In addition, adapter cable assemblies for connecting M12 or push-pull connectors to RJ45 or USB interfaces are possible with the legally protected industrial connector series Y-Con®. Yamaichi Electronics thus offers the advantage that all required components are available onsite and the entire cable assembly including the overmoulding can be manufactured at a single production location. ▪ ds
3D multi-stereo sensor with large measuring field
With embedded technology and a particularly large field of view, a new 3D sensor from ISRA VISION offers short scanning times and fast data availability, making it ideal for use directly on the production line.
Through exact 3D shape recognition, it checks all characteristics of an object such as boreholes or gaps in a single measuring run. The results are then immediately made available through CAD comparison. Moreover, the high precision and robust design of the ultra-fast 3D sensor make it perfect for use as a standalone system or for measurements in a quality lab. Equipped with four high-resolution cameras and a powerful LED, X-GAGE3D from ISRA VISION scans all object shapes quickly, even under challenging conditions. Its multi-stereo technology enables a particularly complete, ultra-fine point cloud, as stereometric images with six different pairs of cameras are possible.
With four integrated cameras and high-performance LED lighting, X-GAGE3D captures even the tiniest details and reliably creates watertight models. The complete digital images are ideally suited to applications such as additive manufacturing
X-GAGE3D enables complete object digitization with the highest level of precision
The various camera perspectives also mean that any reflective areas do not appear out of focus, as they can be optimally captured from other angles. The results are most precise digital images or "watertight" models, which show objects in detail and without any gaps. This allows even freely shaped areas to be inspected precisely and makes the results ideal for additive manufacturing with a 3D printer or for reverse engineering
Object digitization
as quality control
If a CAD data set for a component is already available, faulty deviations can be determined quickly through CAD comparison. X-GAGE3D uses this process to examine all object features simultaneously, considerably speeding up quality control. For object digitization, X-GAGE3D creates the CAD data itself and makes it available for further processing in all conventional formats. X-GAGE3D is especially precise here due to its ultra-fine point cloud technology. The minimal spacing between the data points delivers a high information density and depicts the object surface precisely. This makes it ideally suited for both, applications in the quality lab and for integration in an automated production line. As a flexible solution, X-GAGE3D is available in multiple formats and therefore covers the entire spectrum of application areas and component sizes.
Designed for easiest operation and Industrie 4.0
An intuitive user interface with tile design allows for safe operation without prior experience, guaranteeing smooth operation. Equipped with Wi-Fi and the OPC/UA protocol, the sensor is also optimally primed for connected production and INDUSTRIE 4.0. X-GAGE3D furthermore complements ISRA's range of equipment for absolute measurement. This reference system determines the absolute sensor position in the space in relation to a higher-level coordinate system, thus producing the most objective results possible.
▪ ds
Find out more now!

Opportunity is waiting for light
On July 7, 2003, the NASA twin robot Opportunity embarked on its journey to the Red Planet from Cape Canaveral, Florida. Today, 15 years later, it is still sending life signs back to Earth – despite a heavy sand storm.
Over the past few weeks, NASA engineers tried to contact Opportunity several times. However, they haven't heard back from the rover, which is almost 15 years old.
The team is now assuming that the charge in Opportunity's batteries has fallen to below 24 V, causing the rover to go into the low-power default mode. In this mode, all subsystems except a mission clock are turned off.
The mission clock of the rover is programmed to wake up the computer so that it can check the power.
If the rover's computer finds that the batteries are not sufficiently charged, it goes back into standby mode. Due to the high amount of dust in Perseverance Valley, the mission engineers believe that it is unlikely for the rover to collect enough sunlight to recharge for the next few days.
maxon motors can handle this
"Opportunity has braved many minor and major sand storms over the years and has always managed to recover its energy. We have no doubt that our motors will also run without trouble afterwards," says maxon CEO Eugen Elmiger. Opportunity's six wheels are driven by maxon DC motors. The Obwalden based drive specialist supplied 35 units with diameters of 20 and 25 millimeters for the rover. The maxon motors in the wheels, for example, did more than 78 million revolutions each, under extreme environmental conditions and temperature fluctuations from -120 to +25 degrees Celsius. The experiences from this successful project are being used for the development of new motors that will soon fly to Mars on the upcoming Mars missions by NASA and ESA – to join the next scientific race. ▪ ds

Find out more now!
The eMagazine WA3000 Industrial Automation presents innovations about the whole spectrum of digital automation technologies. You will find technical articles about industry 4.0, safety, security, HMI, industrial networking, sensors, measurement, control & regulation technology and much more.
Stay informed and follow us.
The eMagazine WA3000 Industrial Automation, the platform www.wa3000.de (incl. the respective country domains) and the social media presences are a service of WA3000 MEDIEN, Dieter Strauß & Alois Mangler GbR
, Mövenstr. 15, D - 85652 Pliening/Landsham, Phone: +49 (0) 89 46 82 49, info@wa3000.de
Sales: ARTPOOL Communication Services, Phone: +49 (0) 89 46 82 49, verkauf@wa3000.de
Editorship: Dieter Strauß Kommunikation (ds), Phone: +49(0) 8142 47 162, redaktion@wa3000.de
Creation / Production: ARTPOOL Communication Services, Phone: +49 (0) 89 46 82 49, produktion@wa3000.de
All articles published in the eMagazine WA3000 Industrial Automation and on the platform www.wa3000.de (including the respective country domains) are protected by copyright. Reproduction requires the written permission of the persons named in the imprint. All rights reserved. The persons responsible in the sense of press law can be found in the respective
imprint
of the editorial office.
The General Data Protection Regulation (GDPR) sets new standards of transparency and accountability for companies that use personal data. We have therefore revised our data protection statement for you.
You can find it here:
Data Protection Statement and revocation hint.
Loading...
Loading...