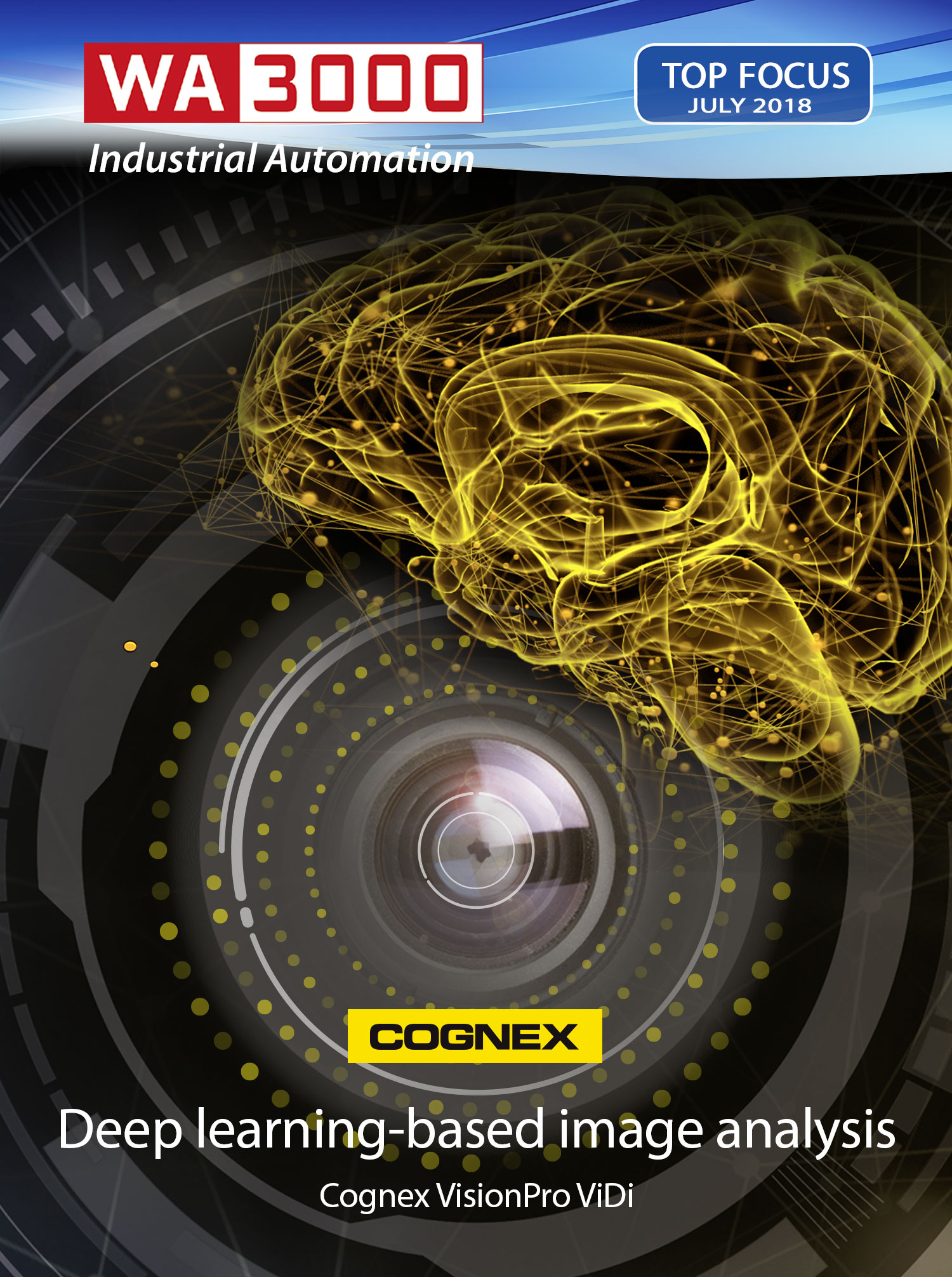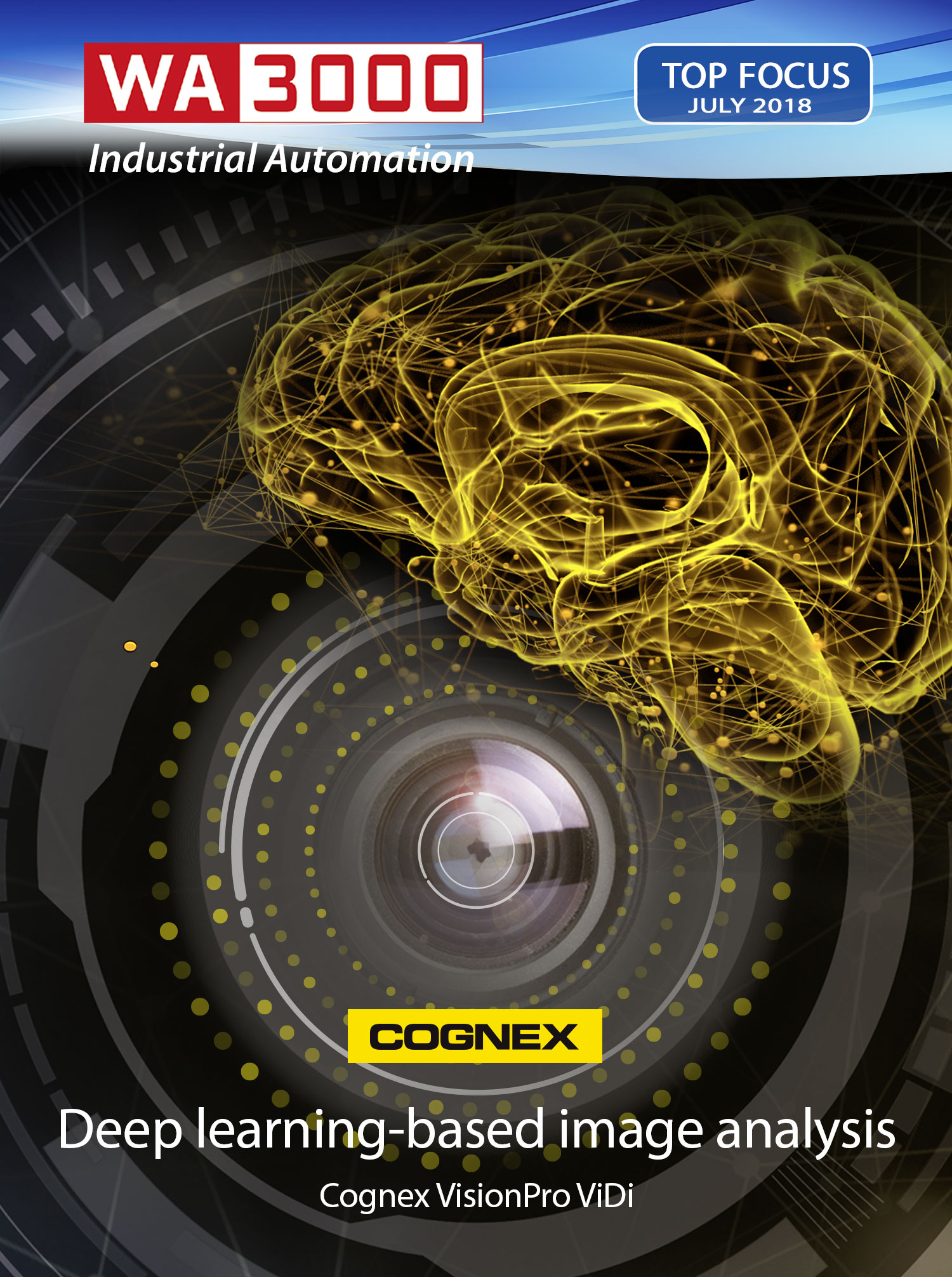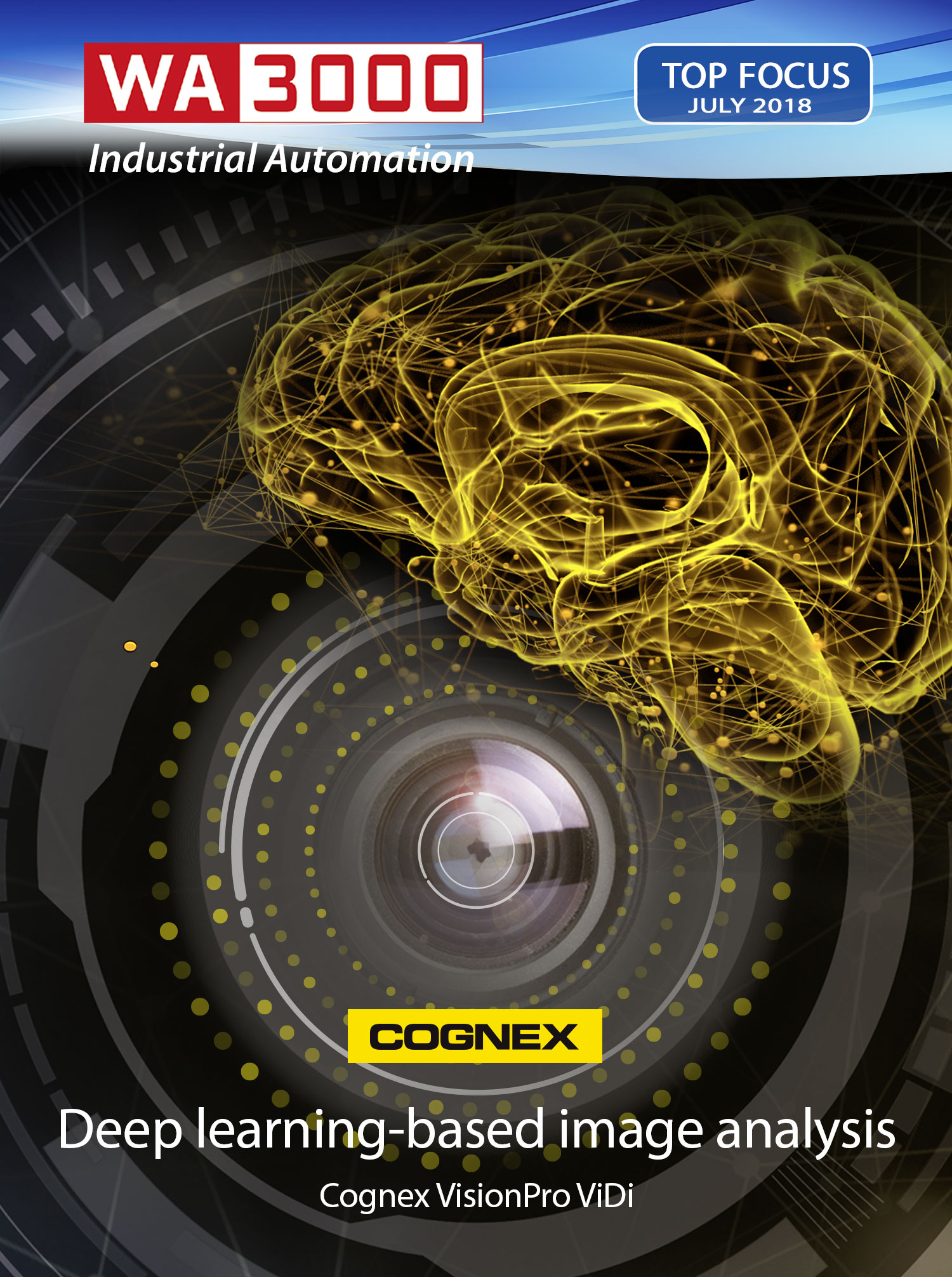 Deep learning-based image analysis
Cognex VisionPro ViDi enables deep learning-based machine vision for automatic identification, inspection and classification.
Cognex VisionPro ViDi is the first deep learning-based image analysis software designed specifically for factory automation. It offers a field-tested, optimised and reliable software solution using the most modern algorithms for machine learning. Cognex VisionPro ViDi combines artificial intelligence (AI) with robust machine vision packages such as Cognex Designer Software. It is thus able to solve complex applications that would be too difficult, time-consuming and expensive for traditional machine vision systems. New deep learning technology functions reliably even when anomalies and unpredictable defects occur, and it is able to outperform even the best quality inspectors. It is used primarily to locate and identify deformed features; to separate anomalies and identify defects; to classify texture and material and to perform demanding OCR applications – even where the printing is distorted.
Cognex VisionPro ViDi uses 4 powerful tool sets
Localization and identification of distorted characteristics
ViDi BLUE Locate finds complex features and objects by learning from annotated images. Self-learning algorithms locate parts, count translucent glass medical on a tray and perform quality control checks on kits and packages. To train the ViDi BLUE Locate tool, all the operator needs to provide are images on which the relevant features are marked.

ViDi BLUE Locate reliably locates characteristics
Application example spark plugs
For certain identification, counting and classification applications, manufacturers must rely upon visual inspection when their environments do not support bar code reading technology. However, slight variations in appearance can cause problems for machine vision inspection systems.
This is the case with spark plugs, which arrive for pre-assembly on differently coloured trays. ViDi BLUE Locate and GREEN Classify identify, count and classify the spark plugs based on their appearance ready for packaging and pre-assembly inspection.
Defect detection and segmentation
ViDi RED Analyze is used to identify anomalies and aesthetic defects, be they scratches on an embellished surface, incomplete or improper assemblies and even weaving problems in textiles. This tool set can identify all these problems very simply by learning the normal appearance of an object, including any significant but permissible variations.
ViDi RED Analyze is also used to segment areas of special interest such – as the presence of foreign material on a medical fabric. The Analyse tool can reliably identify the relevant area simply by learning the varying appearance of the targeted zone.
ViDi RED Analyze detects defects
Further application examples
ViDi RED Analyze simplifies the automatic detection and classification of defects on textured metal surfaces, as in the inspection of piston rings. During cylinder inspection, the tool also reliably detects pores in the metal.
Inspection of piston rings
ViDi RED Analyze is also used in the inspection of textiles, including airbags. Airbags are subject to strict quality standards to ensure passenger safety.
Automotive manufacturers must double and triple check all safety-critical components to ensure quality and reduce warranty and re-call costs.
Classification of objects and scenes
ViDi GREEN Classify is used to classify an individual object or a complete scene, be it the identification of products based on their packaging, the classification of weld seam quality or the separation of acceptable from unacceptable anomalies.
The tool learns to distinguish between various classes based on a collection of images. All that is required for the learning-in process are images assigned to and labelled in accordance with the various classes.

ViDi GREEN Classify separates different classes based on a collection of marked images
Application example
anomaly detection
Piston weld seams are highly variable, making anomalies difficult to identify. Certain anomalies, such as missing, overpowered or underpowered weld seams, are undesirable. However, other anomalies, including overlapping seams, are desirable and even essential for safety reasons. The ViDi RED Analyze tool, in combination with ViDi GREEN Classify, simplifies the automatic inspection and classification of weld seam defects.
Reading text and characters
ViDi BLUE Read deciphers badly deformed, skewed and poorly etched characters using optical character recognition, OCR. The pre-trained font library identifies most text without additional programming or font training, delivering a quick and easy application. This robust tool can be trained to adjust to specific OCR application requirements. No special expertise is required for this.
ViDi BLUE Read also handles badly readable characters
Get all the information you need in one place!
Download the Deep Learning Kit and find out how you can automate previously unprogrammable applications, reduce error rates and increase inspection times.

Request Deep Learning Kit now
Application example: decoding chassis identification number
Automotive manufacturers must be able to locate and decode chassis or vehicle identification numbers (VIN) for successful traceability. Paint colours, specular effects and glare make it difficult for traditional machine vision systems to locate and recognize characters. ViDi BLUE Read, however, reliably identifies all deformed characters during the VIN inspection.
Summary
Artificial intelligence (AI) and deep learning open up a new range of applications for vision technology. Complex challenges that were once impossible can now be reliably solved, particularly if unfamiliar anomalies are involved. The complexity of a difficult application is no longer an insurmountable problem: The Cognex ViDi Suite solves complicated applications simply and quickly, even without relevant AI expertise. ▪ ds
M8x1-P-coded connectors for EtherCAT-P
With the new series of P-coded M8x1 connectors, CONEC supports the EtherCAT-P single-cable solution developed by Beckhoff and the associated ETG (EtherCAT Technology Group).
EtherCAT-P is a further development of the worldwide established EtherCAT technology. The special feature of EtherCAT-P is the combination of the super-fast EtherCAT communication with the 24 V power supply. Data and power (Us) for system and sensor supply with 24 V and 3 A are provided on a two-wire pair.
A second pair of wires provides data and the peripheral voltage (Up) for supplying the actuators. The direct coupling of the supply voltage to the 100 Mbit line enables a compact and cost-effective device connection.
CONEC currently offers shielded axial overmoulded designs with cable quality G6, TPU 4xAWG22, available in standard lengths. For the 100 MBit device connection almost exclusively male-male patch cords are used. Field attachable connectors are available as female and male variants in axial design, either with screw (female and male connector) or crimp (male connector) termination. Flanges for direct PCB mounting are available for the device connection. The continuous shielding from the flange housing to the circuit board is realized with a punched sheet metal plate. Moulded contact tongues form the radial connection to the flange housing. A special flange version with moulded cable and a further plug on side B, preferably P-coded, is suitable for wiring through the wall of a switch cabinet, for example. ▪ ds

Find out more now!
High-performance embedded computing in a compact format
Kontron announces the KBox B-201, a high performance, compact design computer, as a new member of the Kontron Embedded Box PC family. State-of-the-art 7th Gen Intel® CoreTM processors together with an Intel® Q170 Express Chipset allow for extremely high performance at a low noise level (34 dB(A) max.).
The KBox B-201 comes equipped with an extremely quiet fan, making it suitable for use in noise sensitive environments. Versatile mounting options and a high number of interfaces offer high flexibility.
The Mini-ITX motherboard in the compact 170x170 mm form factor is equipped with two to four processor cores: optionally, users can choose between three 7th Gen Intel® CoreTM processors (i3-7101E/i5-7500/i7-7700). On request, 6th Gen Intel® CoreTM processors are available as well. KBox B-201's performance further gets boosted by the Intel® CoreTM Q170 Express chipset.
Supporting Windows 10 IoT Enterprise and Yokto for Linux
The system offers three graphic ports in total, including two space-saving DisplayPorts V1.2, and one DVI-D interface. A 2.5-inch SSD SATA III/ SATA-600 as well as a M.2 SSD / SATA III are available as storage media for operating system or data. A mSATA SSD can be integrated optionally. Various interfaces, e.g. four USB 2.0 and six USB 3.0 ports, offer high flexibility. A serial interface (RS232/COM1) is provided for local data collection and sensor- or machine environment connectivity. Two Ethernet Ports 10/100/1000Mbit/s and a Mini-PCI plug-in card slot are available for system expansion. The Box PC runs on Windows
®
10 IoT Enterprise LTSB and Yokto for Linux operating systems
Horizontal or vertical operation
The KBox B-201's housing is manufactured of continuously hot-dip zinc coated mild steel sheet (according to EN10215) and aluminium with the measurements 190x60x190mm. Five different mounting options guarantee highest flexibility. The KBox B-201 can be used horizontally or vertically as a desktop PC, or the box PC can be fixed directly behind a monitor using a VESA mounting. For mounting underneath a table, on the wall or in a control cabinet, special angle pieces are available, likewise offering horizontal or vertical operation.
The KBox B-201 offers a lot of performance and requires only little space
Small dimensions but many connections
Suitable for demanding applications
The Box PC can be used in ambient temperatures ranging from 0 to 45 degrees Celsius. The KBox B-201's typical application areas are image processing tasks, plant data collection, as well as manufacturing executive systems (MES) in the automation pyramid.
Encryption and IP protection
The KBox B-201 supports TPM V2.0 encryption for secure cloud connection. Optionally, the Kontron APPROTECT Security solution can be integrated. Based on an integrated Wibu-Systems security chip and in tandem with a specifically developed software framework, it provides IP and copy/reverse engineering protection. Kontron APPROTECT Licensing also enables new business models such as pay per use, demo versions for limited time periods, or activation/deactivation functions. ▪ ds
Videos about automation
Watch now and learn more
The videos inform you about new products and services from different areas of electrical automation technology. The focus is on digitization and networking.
Pick-to-Light solution for industry and intralogistics
For the first time, Weidmüller presents its Pick-to-Light and Put-to-Light solutions for picking and assembly tasks in industry and intralogistics.
The innovative Pick-to-Light and Put-to-Light solutions guide the picker through a sequence of steps requiring confirmation within a precisely defined work process. This avoids errors and raises productivity
The Pick-to-Light and Put-to-Light solutions use a signal display with touch sensor and bright multi-colored lamp for highly efficient user interaction
Robust and EMC-resilient electronic compartment displays (DPD) are installed above the individual storage locations in the pick and put areas, and are connected with the production information system of the plant via a junction box and the integrated u-remote remote I/O system. When the compartment displays light up, the picker is guided through a sequence of steps requiring confirmation within a precisely defined work process. This avoids errors and raises productivity by more than 50 percent.
PICK-TO-LIGHT
For Pick-to-Light solutions, the compartment displays are equipped with four numerical, digital, seven-segment displays and a touch button with a bright multi-colored lamp. The production information system signals with a colored illuminated touch button to which storage location the picker should go. The light is easily visible from a long distance, ensuring efficient forward planning for the picking sequence. The numerical display tells the picker how many parts are to be removed there and in which compartment the parts are to be placed on the accompanying, unmanned, automatic guided vehicle. The employee acknowledges the removal process by pressing the touch button. A color change signals an error and at the same time guides a second picker. An industrial truck then transports the parts to the assembly line where they are taken out of the respective compartments or containers. The collaborative solution raises productivity by avoiding errors in picking.
Put-to-Light
The Put-to-Light solution is identically constructed and is used in the filling area for empty containers. The functionality is similar to that of the Pick-to-Light solution. In this case, the product information system sends a command to fill up the container. The container is displayed via the illuminated touch button and the number of parts to be filled via the numerical display. Pressing the touch button concludes the process. Alternatively, automatic acknowledgement can be set up for Pick-to-Light and Put-to-Light, whereby an external sensor is connected to the compartment display via the M8 connection. It automatically detects removal or filling and immediately sends confirmation to the production information system. This option helps lower the error rate further. The Pick-to-Light and Put-to-Light solutions from Weidmüller allow improved handling of the supply process and significantly optimized productivity.
Robust compartment displays
The compartment displays from Weidmüller feature a special property, are configured to be very robust with IP54 protection and IK05 impact protection, and also offer very good EMC resistance for use in industrial environments. The compactly designed displays with dimensions of 180x70x75 mm (length x width x height) can be installed without tools in next to no time. Together with the junction boxes available as accessories, the customer can achieve a decentralized device architecture with almost all communication structures and bus systems, including Modbus/TCP, PROFINET, EtherCAT and EtherNet/IP.

The connection option for external sensors allows the integration of automatic acknowledgement in the workflow. This further reduces error rates
The robust IP54 and IK05 protected enclosure and shielded cabling provide for reliable service in a harsh industrial environment
The bus connection to the junction box uses a shielded hybrid cable with M12 A-coded connector. At the same time, this supplies the modules with an operating voltage of 24 V to 36 V DC. An additional M8 plug-in connection on the compartment display allows external sensors to be connected for automation. The compartment displays are designed for an operating temperature of 0 to 45 °C at a humidity of 30 to 80 per cent. The enclosure consists of PA66 impact-resistant plastic.
Conclusion
The Pick-to-Light solution from Weidmüller allows the timely provision of required parts and tailored support for manual work in industry and intralogistics, with reduced error rates and significantly improved productivity. ▪ ds
Configurable 500 W power supplies have low airflow requirement and meet curve B EMI
The configurable XMS500 series of AC-DC power supplies from TDK Corporation offer both Class I and Class II (double insulated) construction. All models are compliant to curve B radiated and conducted EMI, with more than 6 dB margin, yet maintain a leakage current of less than 150 µA.
Due to the mechanical design and high operating efficiency of the series, only 1 m/s airflow is required for full load operation at 500 W. Certified to both medical and industrial safety standards, typical applications include home healthcare, hospital equipment, imaging and clinical diagnostic systems in addition to industrial, test and measurement and communications equipment.
With a low 37mm profile the XMS500 can be easily incorporated into limited space environments.
The flexibility of XMS500 allows engineers to select from a wide range of options to optimise system design and cost. These include standby voltages, fan supply voltage, case options (including built-in, low audible noise, fan), remote on/off, AC fail and single or dual input fusing. Standard output voltages offered are 12V, 24 V, 36 V and 48 V. Additional voltages and options are available.
Power supply series include open frame and U channel models
The product series will operate from an input of 90 to 264 Vac, and is able to withstand 300 Vac for five seconds. The XMS500 will operate in ambient temperatures of up to +70 °C, derating linearly above 50 °C by 2.5 % per °C. The open frame models measure 102 x 180 x 37 mm
3
and the U channel 107 x 180 x 39.5 mm
3
. All models are safety certified to IEC/EN/ES 60601-1, IEC/EN/UL 60950-1 with CE marking for the Low Voltage and RoHS2 Directives. The XMS500 also complies with EN 55011 level B and EN 55032 level B conducted and radiated emissions (for both the Class I and II products), and meets the EN 61000-3-2 harmonics, IEC60601-1-2 Edition 4 and IEC 61000-4 immunity standards. Input to output isolation is 4 kVac (2 x MOPP), input to ground isolation 1.5 kVac (1 x MOPP) and output to ground isolation is 1.5 kVac (1 x MOPP) making it suitable for both B and BF rated equipment.
▪ ds
Find out more now!

Robot systems: workpiece handling with vision
It started with a blank. But how does the workpiece get onto the line or into the machine? Depending on the state it is delivered in, this task can quickly become very complex. Reliable 3D object detection systems optically capture and evaluate data. Liebherr works with a variety of 3D vision systems to match the requirements and smoothly handles the supply of every haphazardly stored part with process precision.
Video Liebherr-Robot-Cell (LRC): Bin Picking with new Vision System
The automation at the beginning and end of a line depends on how the workpieces are fed and stored. If the delivery just involves removing a single layer of goods from a pallet, contour or feature recognition is sufficient for enabling automated gripping and transfer to the follow-up process. If the workpieces are in several layers, such as stacked blister packs or tablet packages, the robot requires a 2½D or 3D system. In the former case, the third dimension is extrapolated using contour distances or gray-scale values. For a real 3D process, the system measures using points in space.
Flexible loading and unloading
The same is true of positioning. The more accurately the workpiece has to be placed, the more demanding the requirements put on the vision system.
Placement on a conveyor belt is simple; positioning within a machine tool is challenging. The more flexibility required for loading and unloading a workpiece (into and out of the machine), the more complex the system.




A robot removes unsorted parts from a deep box
Increasing complexity in workpiece guidance (built by C&G)
There are also rules of conduct, such as detecting and handling missing or incorrect parts, and collision models. Liebherr automation systems have a response for these various challenges.
New vision systems
for bin picking
Liebherr works with a selection of three different variants chosen specific to the requirements. A red light laser is used in 3D vision systems that use a laser time-of-flight method. It offers a highly robust solution that is separate from ambient light conditions and the level of contamination. An alternative is to use a 3D vision system using a precise two-stage laser triangulation process with a blue light laser. This type of system is ideal for workpieces made of metal, organic and semi-transparent or reflective materials. The third option is the highly-flexible 3D stereo vision system with a triangulation process and supported by an additional projector unit. This option is perfect for short cycle times. The 3D stereo vision system can create complete and homogeneous depth maps of the scene using special projector technology.
Process-safe emptying of containers
As a result, it provides fast and high-resolution image recognition. This allows a robot with patented additional axes to empty transport containers up to one meter in depth with process precision.
Optical detection occurs within five seconds, depending on the vision system and the associated evaluation. That enables short cycle times for the overall system.
Thanks to the high resolution, the data cloud interface is smooth and virtually noiseless. These high-quality measured values are transmitted to the main software of the bin picking system. The software enables easy teaching of workpieces, grippers and their grip points.
▪ ds
The eMagazine WA3000 Industrial Automation presents innovations about the whole spectrum of digital automation technologies. You will find technical articles about industry 4.0, safety, security, HMI, industrial networking, sensors, measurement, control & regulation technology and much more.
Stay informed and follow us.
The eMagazine WA3000 Industrial Automation, the platform www.wa3000.de (incl. the respective country domains) and the social media presences are a service of WA3000 MEDIEN, Dieter Strauß & Alois Mangler GbR
, Mövenstr. 15, D - 85652 Pliening/Landsham, Phone: +49 (0) 89 46 82 49, info@wa3000.de
Sales: ARTPOOL Communication Services, Phone: +49 (0) 89 46 82 49, verkauf@wa3000.de
Editorship: Dieter Strauß Kommunikation (ds), Phone: +49(0) 8142 47 162, redaktion@wa3000.de
Creation / Production: ARTPOOL Communication Services, Phone: +49 (0) 89 46 82 49, produktion@wa3000.de
All articles published in the eMagazine WA3000 Industrial Automation and on the platform www.wa3000.de (including the respective country domains) are protected by copyright. Reproduction requires the written permission of the persons named in the imprint. All rights reserved. The persons responsible in the sense of press law can be found in the respective
imprint
of the editorial office.
The General Data Protection Regulation (GDPR) sets new standards of transparency and accountability for companies that use personal data. We have therefore revised our data protection statement for you.
You can find it here:
Data Protection Statement and revocation hint.
Loading...
Loading...