Connector technology
The 3D image, layout and symbols for the circuit diagram are displayed in the preview for each individual product. To physically verify the selection, the customer can use the established free sample service. All they have to do is select the desired sample from the product catalogue and complete the order. Users receive OMNIMATE
®
product samples within 72 hours worldwide and can get started right away. The QR codes on the products or on the box establish a direct link to a handling video to support the end user and their work in the field. Here the physical product is linked to another digital service.
Summary/outlook
Weidmüller is continuously expanding its product portfolio and services to provide device developers with the best possible support today and tomorrow. This is why Weidmüller is introducing OMNIMATE
®
4.0 – a modular system for building connectors for data, signals and power. Thanks to its modular concept, OMNIMATE
®
4.0 is already prepared for future technologies, systems and connections. For the market launch, Weidmüller is already offering a hybrid version with the SPE (Single Pair Ethernet) data connector, which is ideal for future drive controllers.
The planning stage is already under way to expand the variety of modules, also with integrated functional electronics for use in smart and networked applications in the IIoT environment.
This means that Weidmüller enables individual solutions for brand new applications that were previously only thought of.
▪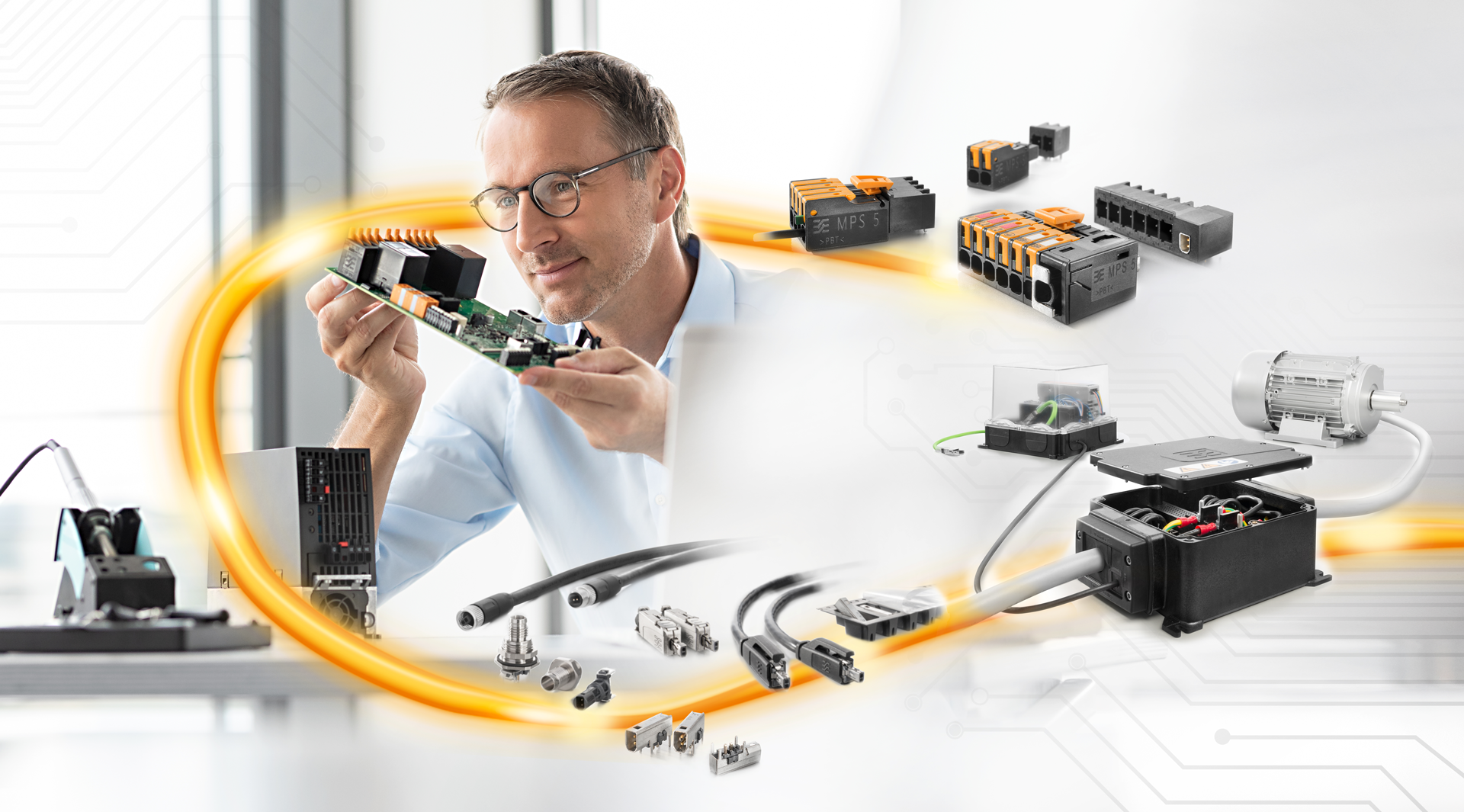 Virtual fair world -
electronica 2020
No electronica - no problem. Weidmüller has created a virtual trade fair stand in order to enter into dialogue with its customers and show the latest innovations. With the highlight theme OMNIMATE
®
4.0 Weidmüller presents a new design concept combined with the fast SNAP IN connection technology. Whether simple installation by robot (Ready to Robot), mechanically by SNAP IN or computer-supported by the digital twin – secure connection is established with a 'click'.
Visit Weidmüller's virtual offer at electronica to learn more about OMNIMATE
®
4.0, Single Pair Ethernet or u-sense.

Author: Silke Lödige,
trade press officer at Weidmüller
Find out more now!